Home /
About Us /
Menu /
Dining /
Ice Cream /
Party Barn /
Entertainment /
Misc /
Contact
Welcome to Dr. Doolittles Roadside Cafe. We are the areas premier spot for food, fun and low prices. We are located on Rich Highway (State Route 219) between Dubois and Falls Creek Pa.. We are the true home of the $0.49 hot dog. We feature Laser Tag / Laser Tag Rentals / 14 Hole Mini Glow Golf / 18 Hole Outdoor Mini Golf / Party Barn Rental and our full menu that we feel will satisfy your hunger any time of the year.
Weekday Specials Listed Below
(Gift Certificates Available)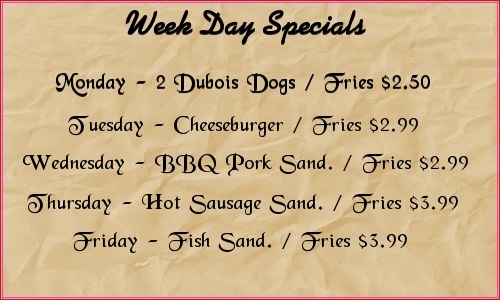 Lenten Specials:
March 1st - April 16th
Fish Sandwich / Fries - $3.99
1 Pc. Fish Dinner - $5.99
2 Pc. Fish Dinner - $7.99
Shrimp Dinner - $5.99
Seafood Platter - $7.99
** Dinners & Platter Comes With Coleslaw, Dinner Roll
Your Choice Of Fries Or Mac & Cheese **

Home of the "original" Baileys Hot Dog Sauce since 2002
Exclusive carrier of "Penn State Creamery Ice Cream" in the area.
2012 - 2017 "Dr. Doolittles Roadside Cafe"&nbsp©&nbsp® ALL RIGHTS RESERVED